Written by Chelsea Dunning
Surgical technicians are an important part of a surgical team, working alongside surgeons and staff in an operating room. Surgical technicians can also be known as scrub technicians or operating room technicians. They work mainly in the hospital setting within the surgical and obstetrics units, but can also work in surgical centers and specialty offices such as transplant and lipoplasty centers.
<!- mfunc feat_school ->

<!- /mfunc feat_school ->
Before a procedure, surgical technicians prepare the operating room by selecting the correct instruments and supplies for the procedure and ensuring that they are sterile. They also assist with transporting the patient to the operating room and preparing them for surgery.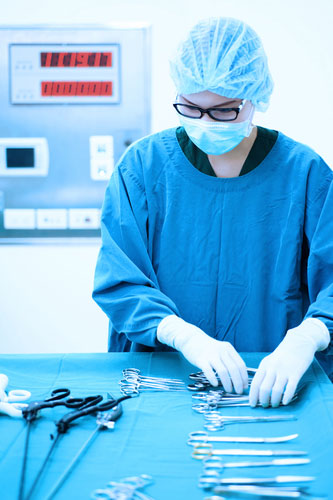 During procedures, surgical technicians assist surgeons to make procedures as efficient and safe as possible. Duties in the operating room include handing operating instruments to surgeons, preparing scrubs, handling any necessary supplies during surgery, and checking consent charts and patient forms. Surgical technicians also ensure surgical supplies and instruments remain sterile and accounted for, in order to help maintain patient and team safety during procedures.
Choosing a career in surgical technology can be stressful so it is important to have the ability to pay close attention to detail, be able to work under stressful conditions and maintain your composure. Procedures can last for hours, requiring all surgical staff to be able to stand for long periods of time while maintaining focus and alertness. After surgery, surgical technicians assist with clean up, ensuring proper procedures are followed, bandaging and moving the patient to the recovery area.
Surgical technicians must be certified and work under the supervision of higher certified medical professionals such as registered nurses, surgeons or other surgical professionals. To become a Certified Surgical Technologist (CST), you must pass a credentialing examination administered by the National Board of Surgical Technology and Surgical Assisting (NBSTSA).
Eligibility to take the exam can be granted by completing a NBSTSA or ABHES (Accrediting Bureau of Health Education Schools) accredited education program, a military training program or on-the-job training obtained during the completion of a non-accredited program. Education program lengths for surgical technicians can take 1-2 years and can be certificate or associate programs. Requirements and resources for persons seeking certification, renewal or are already certified can be found through NBSTSA (http://nbstsa.org/).
Surgical technicians work in high stress, fast-paced and often intense situations, with little to no downtime throughout the day. They fulfill an essential role on all surgical teams and can work highly variable hours.
Since they often work in hospital settings, hours will vary and will probably include working weekends, holidays and overtime. According to the Bureau of Labor Statistics, the median pay for surgical technicians is $46,800 per year with a much faster than average job outlook for the next seven years, making Certified Surgical Technicians highly employable (2016).
To learn more about how you can become a CST, contact the schools on our site to request information.