Written by Chelsea Dunning
Certified nursing assistants, or CNAs, assist nurses in providing basic care to patients in a health care setting. Nursing assistants generally assist with activities that patients cannot do for themselves, in turn relieving nurses of these duties so they can focus on other patients and providing more medical care.
<!- mfunc feat_school ->

<!- /mfunc feat_school ->
The basic needs a nursing assistant may assist with include bathing, eating, changing positions in bed, collecting treatment information from caregivers, lifting patients, cleaning patient beds and rooms and take vital signs. Nursing assistants can be found in all sorts of medical facilities such as hospitals, hospice care and nursing homes.
A nursing assistant, also called a patient care technician, fulfills an essential role in patient care and has little to no downtime on a shift, unless working overnights. Nursing assistants must be prepared to do physical work each shift and should be in good physical condition. They must also be compassionate individuals, providing personal care to many patients located at inpatient medical centers who cannot care for themselves in their recovery or medical condition.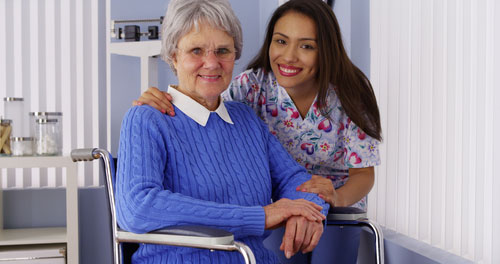 Since nursing assistants work closely with patients and the medical professionals, they often act as a liaison between them, conveying any changes in a patient's condition or needs, as well as helping to educate patients of their treatment plan and condition.
Certified nursing assistants must successfully complete a nursing assistant program which will include courses over patient care, properly lifting and moving patients, bathing procedures, medical terminology and anatomy to name a few. These courses help prepare nursing assistants to safely and effectively perform their jobs after program completion.
After completion of a nursing assistant program, certification can be obtained through the state nursing board by meeting requirements and passing an exam. Certification by the state nursing board will provide an individual the credentials and proof of ability and proper education to be a nursing assistant.
Since nursing assistants are often working with a population that cannot always self-advocate, a background check will be required before full certification is awarded. Experience and education that nursing assistants receive gives them the framework to continue their education and choose a path in which to move their career forward if and when they are ready.
Due to the potential for high stress, physical and emotional demand, CNAs can often burnout after so many years providing care, but many options are available to move forward with a medical career. Many CNAs end up attending nursing school or another allied health professions program.
Nursing assistants have the potential to make a decent wage for completion of a 16-month certificate program. According to the Bureau of Labor Statistics, the median wage for nursing assistants is $27,650 a year (2016). Because of the setting of their work, nursing assistants often work 10-12 hour shifts, 3-4 times per week with many opportunities for overtime, holiday pay and bonuses.
If you enjoy working with people, have a compassionate heart and want to make a difference, becoming a nursing assistant may be a good fit for you. Contact the schools that offer CNA or PCT programs to request more information on the schooling that is required.