There are many reasons why people choose to become a medical assistant or nurse in today's employment landscape. A lot of people ask, "Is a medical assistant a nurse?" The short answer is: No!
There are definite differences between these two jobs in healthcare. However, both medical career tracks can offer many of the same benefits for students looking for long-term healthcare career options.
<!- mfunc feat_school ->

<!- /mfunc feat_school ->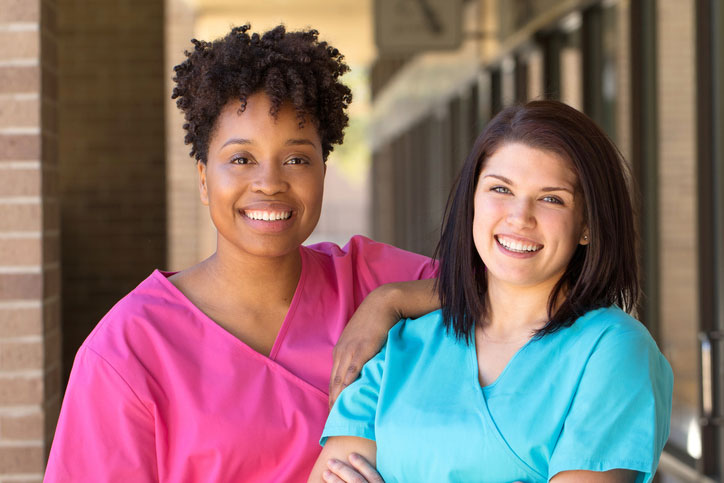 With the overall growth in the healthcare industry expected to outpace many other careers, the employment projections for both MAs and nurses are rosy. What's more, healthcare affects all Americans, presenting opportunities for nurses, medical assistants, and many other healthcare workers to affect positive change in this expanding field. Thanks to the innovations in technology, the aging population, and increased access to care, you can probably train for one of these careers on an efficient timeline, and start working upon graduation or licensure.
For those of you who are just starting to research medical assistant and licensed nurse requirements, as well as the job responsibilities that each career entails…
There's just one question you need to answer: "What is the difference between a medical assistant and a nurse?"
Look:
We'll give you the answers you need in the sections below.
Keep in mind, becoming a medical assistant can be a great entry-level education and career path that can eventually pave the way to registered nurse positions. By earning a diploma, certificate, or associate's in medical assisting, you can prepare to continue your education and become a nurse in the future.
How Do I Become A Medical Assistant Or A Nurse?
Med Assistant Licensing and Certification Guidelines – 2017
Certification can be the most striking difference, on paper, for those people comparing Medical Assistant vs Registered Nurse job requirements. To become a certified medical assistant (CMA), you will have to complete an approved certificate, diploma or associate degree program. This can take anywhere from 12 months for diploma or certificate programs, to two years for Associate's options.
Once you complete your CMA education requirements, you will take the exam administered by the American Association of Medical Assistants. Before you do, make sure you take some time to brush up on your knowledge before you take the test!
On the flip side…
To complete the requirements to become a registered nurse, you must take an accredited program that will result in a bachelor's degree. Plus, you will need to pass the licensure exam through the National Council of State Boards of Nursing. This increases the time you will spend in school to about four years, in most programs.
Of course, you can take a licensed practical nurse (LPN) program as a stepping stone towards becoming an RN. Registered nursing programs will take about four years to complete. Some programs can be completed on a more efficient timeline.
Several types of schools offer medical assistant and nursing programs to compensate for the growing need for professionals with these skills.
Starting in a medical assisting role is also a great way to figure out if you want continue your education further and actually go into nursing!
What Do Medical Assistants Do?
Do Med Assistants Perform the Same Duties As Nurses?
Speaking of skills, let's talk about the core responsibilities that are different in the day-to-day roles of these first line healthcare workers.
First of all, medical assistants often have a more balanced set of skills between administrative and clinical functions. One minute, an MA might be scheduling a patient visit, and taking patient vitals the next. Secondly, medical assistants are performing clinical responsibilities under the direction of a doctor, nurse practitioner or physician's assistant. They most often work side-by-side with nurses, under the direction of top level providers. They may prepare patients for procedures, and communicate directly with the patient to address their questions or explain the procedure.
Of course, nurses have plenty to do with patient care and are solely responsible for much of the ongoing tasks patients require. This is their core area of focus, rather than focusing so much on administrative tasks. Like most healthcare workers, they are responsible for certain recordkeeping tasks related to their roles—documentation is the legal responsibility of the RN in most cases. Nurses also take the lead in writing care plans for patients to follow on their path to recovery.
Nurses also have more dialogue with physicians, who often listen to their analysis based on their training and expertise. Whereas, a medical assistant would report to a physician, follow orders, but not likely have the responsibility of analyzing patient health at the level of a RN.
In a nutshell…
Medical assisting is a good way to get your foot in the door to a healthcare career. If you enjoy working with people, and consider yourself an empathetic caregiver, then you should think about healthcare as a field in general.
Once you begin working as a medical assistant, you will find it is pretty easy to map a path to a nursing career—and you'll know if that's what you really want to do.
To get started, contact the medical assisting schools below to find out how you can get trained.