Angie Best-Boss is an award-winning freelance medical writer, editor and author of seven books on women's health.
Before you go to work as a medical assistant, you should consider taking the Certified Medical Assistant (CMA) exam. Certification gives you a professional edge when it comes to getting the job you want. In fact for certain medical facilities, passing the exam is a requirement.
<!- mfunc feat_school ->

<!- /mfunc feat_school ->
Know What to Expect
The exam is computerized and consists of about 200 multiple-choice questions. At the beginning of the test, you will have the opportunity to complete a 15 minutes tutorial.
After you finish the tutorial, the test begins. You will be given 3 hours and 15 minutes to complete the entire exam, and it is administered in four, 40-minute sections. If you do not pass on the first try, you can retake the exam within 90 days.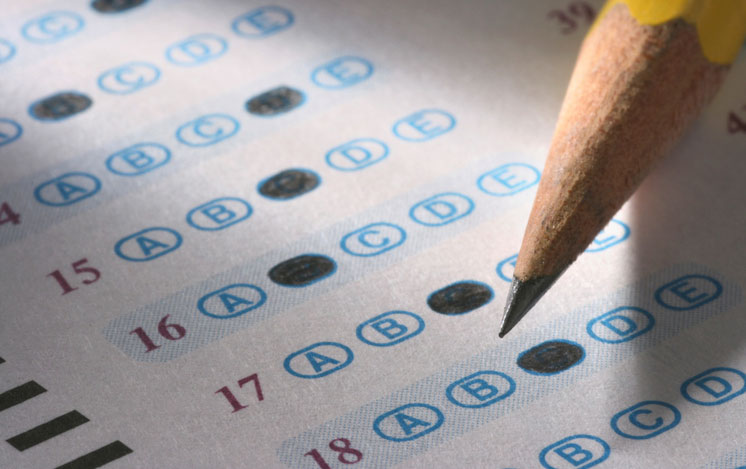 The following practices will help you pass:
Polish up on class material.
Take a review course.
Take practice exams.
Study for the exam.
Class Material
Preparation for the exam begins with your college or vocational training. As a student you will complete classes related to medical terminology, lab procedures, office practices, patient relations, first aid, pharmacology and clinical procedures. These topics will also be covered on the certification exam.
Paula Patton, a health science instructor, encourages students to seek out tutoring for these classes from the beginning. "If students don't get a concept or course the first time around, they will not perform well on the corresponding exam questions."
Review Courses
Whether you're fresh out of school or it has been a few months since graduation, a review course will refresh your memory and calm pre-test anxiety. The American Association of Medical Assistants (AAMA) does not offer a review class at the national level, but some local chapters do. Find out what is available in your area.
Practice Exams
Taking a CMA practice exam will help you pinpoint weaknesses and focus your studies on the areas that give you the most trouble. The AAMA has a practice test available online. Although none of the questions on the practice exam show up on the real exam, you'll find out what to expect on the test.
Study
Finally, and perhaps most importantly, you need to study. Health science instructor, Paula Patton, recommends incorporating the following study tips into your routine:
Study content outlines. The AAMA provides content outlines that list subjects you should cover. You will still need reference texts and study materials.
Never cram. Break your study time into digestible periods, and take breaks whenever you need them. Cramming will increase your anxiety and can negatively impact your score at test time.
Find a study group. If you can't find one, start one. The benefits of studying with your peers include better memorization, improved retention, and a support system for sticking to a study plan.
Once you feel that you are prepared to take the CMA exam, you should submit an application with the AAMA.