Administrative Medical Assistant, Clinical Medical Assistant, Registered Medical Assistant & Certified Medical Assistant Careers
Even though there are many career paths and options for medical assistant schools, choosing the right program for you doesn't have to be a confusing or stressful process.
In this article, we are going to take a look at the four different types of medical assistant career paths and certifications you can consider as you weigh different medical assisting programs.
<!- mfunc feat_school ->

<!- /mfunc feat_school ->
Here are the four most common types of medical assistants:
Administrative medical assistant
Clinical medical assistant
Registered medical assistant
Certified medical assistant
Administrative and clinical describe the two main categories that medical assistants fall into. As you can imagine, administrative assistants help in the office, and clinical assistants help with patients. You can earn your medical assistant certification or registration by following the steps outlined in the sections on those topics below.
After you read through and analyze each section, you should write down your thoughts and questions you may want to discuss with medical assistant training schools in your area. For instance, you might want to know what courses to expect, what your financial aid options are and medical assistant salary figures in your area.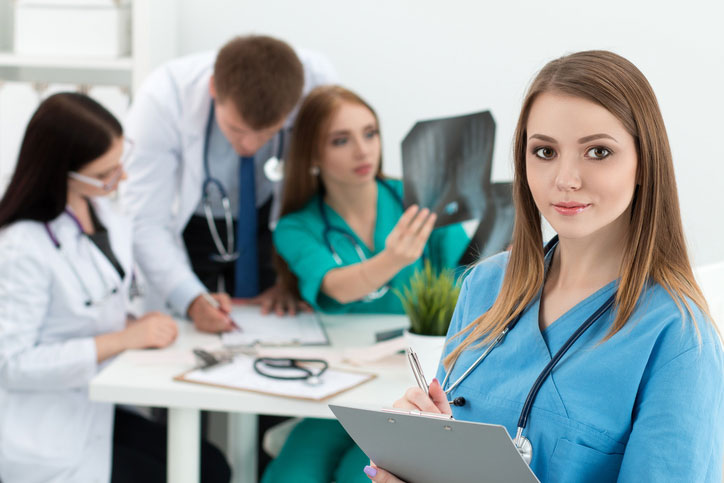 Ready to request information about schools for medical assistant training?
All you have to do is use the tools and resources on our site to take the next step and contact medical assistant colleges.
We work with schools all over the country to help students who are interested in medical assistant careers move ahead, enroll in training, and pursue the career they want.
Questions we will try to answer about each type of Medical Assistant career:
What does this term mean?
What kind of education is required?
How can you choose the right program?
What kind of courses do you take?
Is there an internship or residency required? What is training like?
What kinds of jobs can you receive after you complete training?
What kind of salary and career outlook can you expect when you start job hunting?
If you think there is more information we should give about medical assistant schools, please let us know. We want you to be a part of the conversation too. So, why not connect with us on Twitter real quick while you're at it?
Administrative Medical Assistant Certification
If you enjoy working with basic office technology and with other people, you should look into administrative focused medical assisting programs. In small offices, it might be just you managing the phones, making appointments, checking in patients, recordkeeping, and handling other office duties.
If you decide to work in a hospital or large healthcare clinic, you will likely be part of a team that handles all of these responsibilities.
There are a few other qualities that can help you thrive in this role. First, you should like to stay busy and have a knack for dealing with the unexpected. Almost every role in the field of healthcare will keep you on your toes. But medical assisting has a pretty good mix of movement vs. sitting at a desk. Although, if you do prefer to sit a little more during your shifts, being an administrative medical assistant is a better option than clinical medical assisting, which we'll talk about in a bit.
There are medical assistant schools that offer administrative focused medical assistant programs. The curriculum will be heavily focused on office functions that mix administrative assistant skills with medical processes and procedures. Your courses will likely cover medical terminology, human anatomy and physiology and other topics that will provide a foundation of knowledge. Once you have the educational platform on which you can build your career, you can start looking for jobs to try and find the highest medical assistant salary you can.
Certified Medical Administrative Assistant (CMAA) exam
To become an administrative medical assistant, you must first earn the equivalent of your high school education. You can then look for a medical assistant college with a program that prepares you for a medical assistant certificate or Associate's program. Once you complete your program at one of the many schools for medical assistant training, you can apply to take the Certified Medical Assistant (CMA) exam through the American Association of Medical Assistants (AAMA).
When you turn in your exam application, you will need to pay a fee of $115. Before you take the exam, be sure to look through the study guides, practice tests and other resources on the AMMA website.
After you complete your medical assistant training and certification…
Once you complete your training and earn your administrative medical assistant certification, you can apply to work in a wide variety of career environments. Whether you want to work on a team in a hospital or large care facility or work at a small private practice, you can control your own destiny with the right employment landscape.
Since the field of healthcare is growing at a healthy 19% pace through 2024, there should be options for skilled professionals and recent grads all over the nation.
Medical assistants start out with an average wage in the area of $30,000, according to the Bureau of Labor Statistics (BLS, 2017). This is higher than many other entry-level careers, which are not experiencing the same kind of growth that this occupation currently is.
Once you start working, you can start setting new goals for your medical assistant schooling and professional training. Plus, you can start adding on certifications, such as billing and coding, which can help you move up and earn much higher salaries.
Clinical Medical Assistant Certification
Clinical medical assistants work more closely with patients and physicians during procedures. Clinical Medical Assistant (CMAs) have responsibilities that cover patient communication and intake, preparing patients for operations or other procedures, and ensuring that equipment, such as sterilized tools, EKG and EEG equipment are ready and available.
You will also likely work directly with nurses and primary care providers to administer basic patient care. You might be taking a patient history one minute, then preparing an examination room the next, or helping a nurse take vital signs or communicating the next steps to a patient who is about to undergo a procedure.
If this sounds good to you, look for medical assisting programs that prepare clinical assistants.
Now, do you see why comparing quality training at medical assistant schools is such a big deal? There may be times when a patients' life is literally in your hands. That's why there is a specific certification for clinical medical assistants called the Certified Clinical Medical Assistant (CCMA) administered through the National Health-Careers Association (NHA). You can view the detailed test plan to see what you will need to learn during your training in order to pass the exam.
Clinical Medical Assistant Coursework
The courses at schools for medical assistants should help you work towards a clinical medical assisting job by including a curriculum that follows the outline of the CCMA exam. When you speak with schools, be sure to ask if their curriculum will meet the standards for this exam, in addition to any other state requirements you may have to follow. This is just as important of a topic as medical assistant salary and employment outlook.
Here are the main topics the exam will cover during medical assistant training – and the topics your courses should address. You will find many certificate and diploma programs as well as full two-year associate degree programs in medical assisting offering curriculum designed to align with the CCMA exam:
Knowledge of health care systems and settings
Medical terminology
Basic Pharmacology
Nutrition
Anatomy and physiology
General patient care
Infection control
Precautions
Testing & lab procedures
Phlebotomy
EKG and cardiovascular testing
Patient education
Administrative assisting
Communication & customer service
Laws & ethics
Core knowledge
Core skills
This might seem like a hefty list, but it can all be tied together through quality medical assisting programs. A CMA program can typically be completed in about 9 months to a year for certificate level programs.
If you want to pursue your Associates or Bachelor's degree, it will take longer. However, many medical assistant online schools offer all types of programs, so you can continue your education while gaining work experience as a clinical medical assistant.
Once you complete your education at one of your options for medical assistant schools, you should have the same options within the job landscape that administrative medical assistants have. Plus, with your clinical skills training, you have more training than just administrative assistant duties. This could help you qualify for both kinds of medical assisting jobs, or jobs that require a mix of skills – as many do in today's every-changing, complex world of healthcare.
Your employment and salary potential should be about the same as those who choose the administrative medical assistant training. And just like those students, you should check local listings and speak with mulitiple schools for medical assistants that offer programs in your area. This enables you to see what the current clinical medical assistant jobs picture looks like for you.
Registered Medical Assistant Certification
Becoming registered with the American Medical Technologists through their RMA certification is another way to ensure your credibility when you submit your resume to employers. In order to become a Registered Medical Assistant (RMA) you either need to complete an accredited medical assistant program, or accumulate at least five years of experience in the medical assisting field.
They also offer ways for military and current medical instructors to qualify for the exam without the training and education requirements. You can read more about the qualifications for these four routes here.
Once you receive your RMA certification after medical assistant training, you will have to keep it current by paying an annual renewal fee of $50. To learn why it's important and beneficial to keep your RMA certification current, you can find info here, or watch this YouTube video on the topic as well.
Getting ready to test checklist for RMAs…
Before you take the RMA exam, we recommend taking a look at this visually digestible outline of the things to do before taking the test – and how to go through the testing procedures without a hiccup. It also includes links to places you can go to take practice tests and other preparation methods.
Most helpful though, might be the list of things to remember to bring with you the day of the test. It's easy to overthink everything and forget something obvious, like your ID.
If you have this certification as your goal after medical assistant schooling, you should choose a curriculum that aligns with the outline of the exam when comparing medical assisting programs.
Look for med assisting courses that include these topics:
Anatomy & physiology
Medical terminology
Medical law
Medical ethics
Human relations
Patient education
Administrative functions
Clinical assisting
Certified Medical Assistant Certification
Becoming a certified medical assistant by earning your CMA through the American Association of Medical Assistants is a very common path for professionals who want to maximize their medical assistant salary potential.
You can learn more about this certification here, as well as find out about the benefits of membership. As a CMA member, you can get up to date information on news and events, as well as other items that can give you insight during and after medical assistant training.
What makes this certificate stand out is that it is the only medical assisting certification that includes a requirement for students to graduate from a school that is accredited by an agency that is recognized by the U.S. Department of Education. That is why this is such a common credential for medical assistants to seek.
Once you complete your approved medical assisting program, you can apply to take the exam. When you do so, you will have to submit a $125 fee. Your certification is good for 60 months from the last day of the month it was issued.
When you submit your recertification application and renewal fee, you will have to show proof of continuing education requirements. These are formatted in a point system, with one continuing education unit (CEU) equaling one point. You must earn a total of 30 points, with a combination of points in administrative, clinical and general course topics.
An overview of the examination lets you know the topics on the CMA exam and what percent of the questions pertain to each topic. For instance, 28% of your questions will focus on: psychology, communication, professionalism, law, ethics, risk management, and medical terminology.
Another great thing about this certification is that it is good in all fifty states. Unlike the teaching profession, which has different licensure laws from state to state, you can take your CMA certification with you anywhere in the United States!
When you complete your approved medical assistant online or campus program before earning your CMA, you will have to complete an internship at a local healthcare facility. This ensures you can make practical use of your medical assisting skills. And when you become certified, you can expect to make the same salary potential as other medical assistants in your area with the same credentials.
Want to connect with medical assistant schools in your area to choose the right training?
Why not take a moment to request information about medical assistant certification and degree programs that can get your career in healthcare started?
You can contact multiple schools for medical assistant training from our site, without having to search all over the internet!
And please let us know about your success! We want to know that we really are making a difference in students' lives.