What Does a Veterinary Technician Do and How Can I Become One?
Veterinarian Technicians will utilize their in-depth background in specialized sciences and their natural love, compassion for, and comfort with animals to successfully treat injured and sick animal patients. They play a pivotal role in educating the animal's owners on best health and prevention practices, and in this way, can serve as one of the animal patient's most important advocates.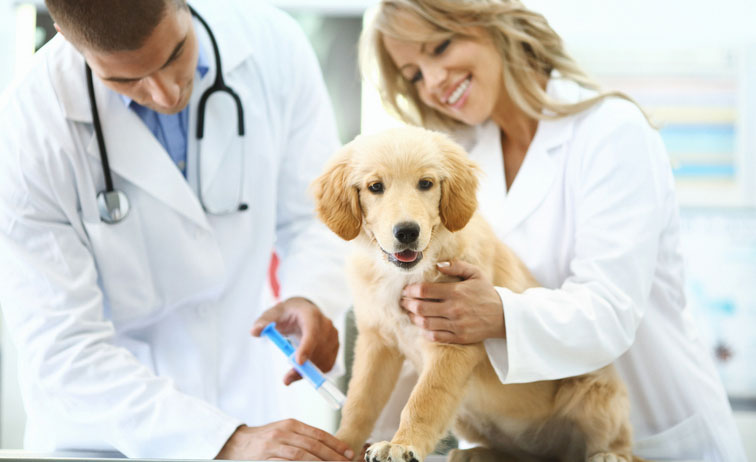 Vet techs perform a variety of tasks, and serve as an essential member of the animal care team. A comprehensive list of possible routine duties required of a Veterinary Technician include:
<!- mfunc feat_school ->

<!- /mfunc feat_school ->
Rendering nursing care, first aid and emergency care
Disbursing prescription medications per instruction of a Veterinarian
Dental cleanings
Providing assistance during or performing diagnostic tests, including blood tests, urinalysis, fecal exams, and radiographs
Taking and developing X-Rays
Administering shots or vaccinations
Bathing animals
Prepping animals for surgery, which could include inducing anesthesia
Performance of a phlebotomy and placement of an intravenous catheter
Providing assistance to Veterinarians during procedures, examinations, surgeries and post-anesthetic recoveries
Observing patients and recording their condition via medical charts
There are various types of domestic, farm and exotic potential animal patients that may fall under the care of a Veterinarian Technician, such as cats, dogs, birds, mice, and rats, as well as sheep, goats, cows, and pigs. As the Veterinarian Technician field continues to expand, some have found themselves working in zoos, which would introduce a plethora of other species into the typical patient regime.
Regarding formal education, a Veterinarian Technician (not to be confused with a Veterinarian Technologist, which requires further, more extensive schooling and training) is projected to complete a two year program accredited by the American Veterinary Medical Association's Committee on Veterinary Technician Education and Activities (CVTEA), and would graduate with an Associate's degree in Applied Science in Veterinary Technology.
There are even some online programs available that are accredited by the AVMA, which can make completing your education easier to achieve.
The core curriculum of studies typically includes veterinary anatomy and physiology, animal behavior, terminology, pharmacology, hematology, parasitology, anesthesia and surgery, radiology, pathology, emergency medicine, and lab animal medicine.
After successful completion and graduation from an accredited program, students must take the Veterinary Technician National Examination (VTNE). Most states require some sort of licensure, certification or registration, so be sure to check the requirements for your desired state of employment.
There are three main levels of credentialing:
Licensed Veterinary Technician (LVT): Licensure afford by a state of veterinary medical board
Certified Veterinary Technician (CVT): Certification granted by a private or professional program
Registered Veterinary Technician (RVT): Official registration by a government agency
Currently, only three states (California, Alaska, and Wisconsin) do not require a Veterinary Technician to become credentialed; otherwise, after becoming credentialed, a Veterinary Technician must complete a state-approved training program, as well as an exam. However, the state test is typically waived in lieu of passing the VTNE.
Technology plays a major role in the breadth of options for employment for the modern Veterinarian Technician, and students now have the option to choose from a wider range of professional roles, leading to expanded, specialized studies in the following areas:
Clinical Supervision
Clinical Pathology
Surgery
Avian Medicine
Exotics
Dentistry
Small Animals
Large Animals
Emergency Medicine
As the Veterinary Technician field continues to grow, those with a passion and drive to pursue a purposeful and fulfilling career working with animals now have even more of an opportunity to grow and thrive alongside their animal patients, including an ever-expanding and diverse client base, providing the possibility for improved care and reach!