Medical Assistant Schools in Kentucky
Medical assisting is a promising career for someone with a high school diploma or GED who is looking to enter a field with good job demand. In some cases, you can enter this medical profession after only one or two years of schooling. If you are searching for a school in Kentucky, you will find the colleges offering this program and related specialties listed below. Request more information from the schools you see.
<!- mfunc feat_school ->

<!- /mfunc feat_school ->
Medical Assistant Education in Kentucky
Most Medical Assistant programs will train the student for both the office tasks of the job as well as the clinical assistance provided to the medical staff. Some programs have separate programs for these two divisions. There are also a number of programs that feature training for the new procedures required with advances in medical information technology, such as with electronic health record keeping. All of the programs options are also listed below.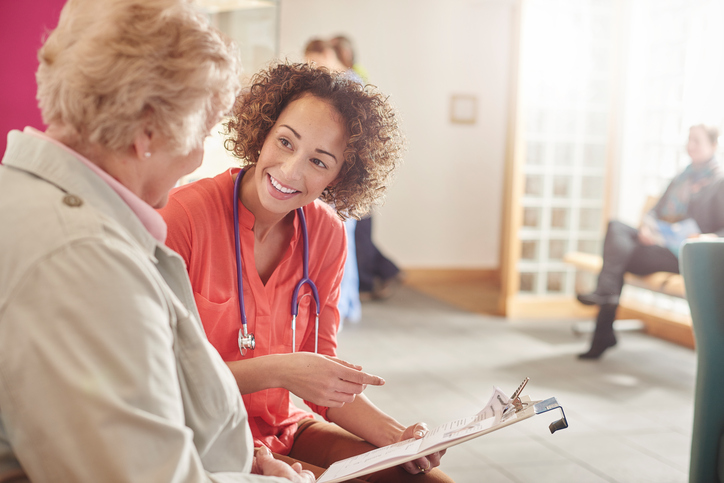 Medical Assistant programs generally have a limited number of openings yearly, and will select among those admitted to the college. Students who have a G.P.A. of 2.5 or above with backgrounds in bookkeeping, biology and other health sciences and mathematics may be more likely be selected. Work or volunteer experience in health services is also a plus.
Acceptable scores on the ACT or SAT may also be required. The programs with a clinical component will likely require a criminal background check and drug screening. All schools can help you find resources that provide financial aid, either through federal loans or available scholarships and grants.
The curriculum will cover medical terminology, medical office procedures and administration, medical insurance, and medical law and ethics on the administrative side. In the clinical area will be courses such as anatomy and physiology, exam room procedures, electrocardiography, phlebotomy, pharmacology, and pathophysiology. An internship or practicum is also often required.
Associate degrees generally take two years to complete, but some colleges claim that the program can be completed in 15 or 18 months. An associate's degree is considered a college degree and requires general education courses which can be applied toward a higher degree such as a bachelor's in nursing. The diploma program covers the skills needed for a profession and can generally be completed in three semesters. Certificate programs provide courses on a specific subject and vary in length depending on the number of courses required for that subject.
What do you bring to the field of healthcare? If you're flexible and ready to take on whatever needs to be done, you may be a great fit for medical assistant certification in Kentucky. It's no secret that healthcare is growing in Kentucky. Without the right staff, local facilities struggle to meet care needs. This leads to long wait times and waitlists for patients, decreasing overall quality of care. Whether you see yourself providing clinical care, working in an office, or doing a bit of both, you may get the start you need at a medical assisting school in Kentucky.
Medical Assisting Classes in Kentucky
When it comes to medical assisting college, KY students may be able to start their search at technical colleges and community colleges. Both of these types of institutions have one-year and two-year programs. If you attend school for one year, you may graduate with a diploma or certificate. Those who attend two-year programs often come out with Associate's degrees.
No matter which type of medical assisting school degree you earn, plan on spending quite a bit of time on clinical training. While there are some online degree options available, most schools require a lot of clinical experience. Working in local clinics and nursing homes may perfect your technique and make you a greater asset to local employers.
As you explore local schools, you may find that some medical assistant programs focus only on clinical work. Others limit themselves to medical office work. The third category of schools combines these areas of study.
Medical Assisting Coursework
Medical Office Procedures
Medical Assisting Lab Techniques
Medical Office Software
Human Anatomy and Physiology
Medical Assisting Clinical Procedures
Billing and Coding Programs in Kentucky
Another option for medical assistant certification in Kentucky is medical billing and coding. In this specialty, you stick to office management skills and office technical skills. Coding and billing are two very specific areas of study. Coding involves inputting the proper value for every diagnosis and service provided to patients. Billing naturally follows coding. The codes you input determine what you charge insurance. From there, you may collect payment and follow up with patients for the remainder of the balance due.
If you don't want to spend much time in clinical settings, this is an excellent specialty to consider. At most schools, you still have to do an internship or practicum. This generally involves limited patient contact, focusing more on the technical skills needed for a billing and coding career.
Class Options in Billing and Coding Programs
Medical Office Terminology
Medical Coding
Advanced Medical Coding
Medical Insurance
Document Formatting
Kentucky Nurse Aide and Patient Care Tech Classes
If office work doesn't sound like the right path for you, look into a clinical specialty at your local medical assistant school. As a certified nursing assistant, you may be able to work with patients of all needs and diagnoses. Certified nursing assistants spend the majority of their time providing hands-on care to patients, such as transferring, feeding, and cleaning. The role of a patient care technician is similar, although patient care technicians typically have additional training in more demanding skills. Some of the fields you may cover as a patient care technician student are EKG and phlebotomy. While you may graduate from a CNA training program in as little as two weeks, you often need at least six months of education to become a patient care technician.
CNA and Patient Care Tech Courses
Basic Life Support
Trained Medication Aide
Phlebotomy
Medical Office Skills for Patient Care Technicians
EKG and Telemetry
Medical Secretary and Administrative Med Assisting Programs in Kentucky
Perhaps you enjoy working with patients, but you'd rather focus on administrative duties than clinical duties. One avenue for medical assistant certification in Kentucky is administrative medical management or assisting. This medical assisting college KY option is similar to standard medical assisting programs. Instead of splitting your time between clinical and administrative tasks, your training is limited only to administrative skills. This is ideal for students who know exactly how they want to use their training after graduation.
Administrative Medical Assisting Classes
Word Processing
Medical Terminology
Medical Ethics
Medical Software Applications
Medical Office Transcription
Do you have what it takes to become a medical assistant and start working in an in-demand field? If so, make your move now and reach out to Kentucky medical assisting schools to learn more.
Learn More About Medical Assisting Programs in Your City
Medical Assisting Careers in Kentucky
Medical Assistant Career Outlook in Kentucky
You've chosen a medical assisting college in KY and you are curious about how you can use your training. You're in the right place. By learning about the job outlook in Kentucky, you can get an overview of this industry and figure out if this training is a good use of your time.
So, what is the job outlook in Kentucky? It's good news: the state has a growing need for medical assistants in all areas of specialty. Demand for care is growing, due in part to legislative changes that have improved access to care for children (The Courier Journal, 2017).
Per O*Net, job openings for medical assistants could see an impressive 29% boost between 2014 and 2024 (2017). Job openings for medical records technicians may see a similar increase, with an anticipated 27% jump by 2024 (O*Net, 2017). Since certified nursing assistants are important in many medical facilities, it's no surprise that they are in high demand throughout Kentucky. A 46% increase in job openings is anticipated by 2024 (O*Net, 2017). Medical secretaries may enjoy a 30% boost in demand between 2014 and 2024 (O*Net, 2017).
Finding the right work setting for you is an important part of your job satisfaction. If you want to build lasting relationships with patients, you may do well in a long-term care setting. Employers in this category include nursing homes and home care facilities. If you thrive under pressure, consider an emergent care setting, such as an emergency room. If you prefer the stability of a regular schedule, you may opt to work at a clinic instead of a nursing home or hospital. At a Kentucky medical assistant school, you should be able to get experience in all of these settings.
Listed below are all of the schools offering Medical Assistant programs in Kentucky. As a rule, you should contact at least 3-5 schools during the course of your research, and ideally more. There are important differences between the programs in terms of cost, admissions requirements, and other characteristics, and, as with many things in life, the way to find the best Medical Assistant program for your needs is to spend some time shopping around.
Here Are The Medical Assistant Schools…
Salary numbers provided are from the US Bureau of Labor Statistics.