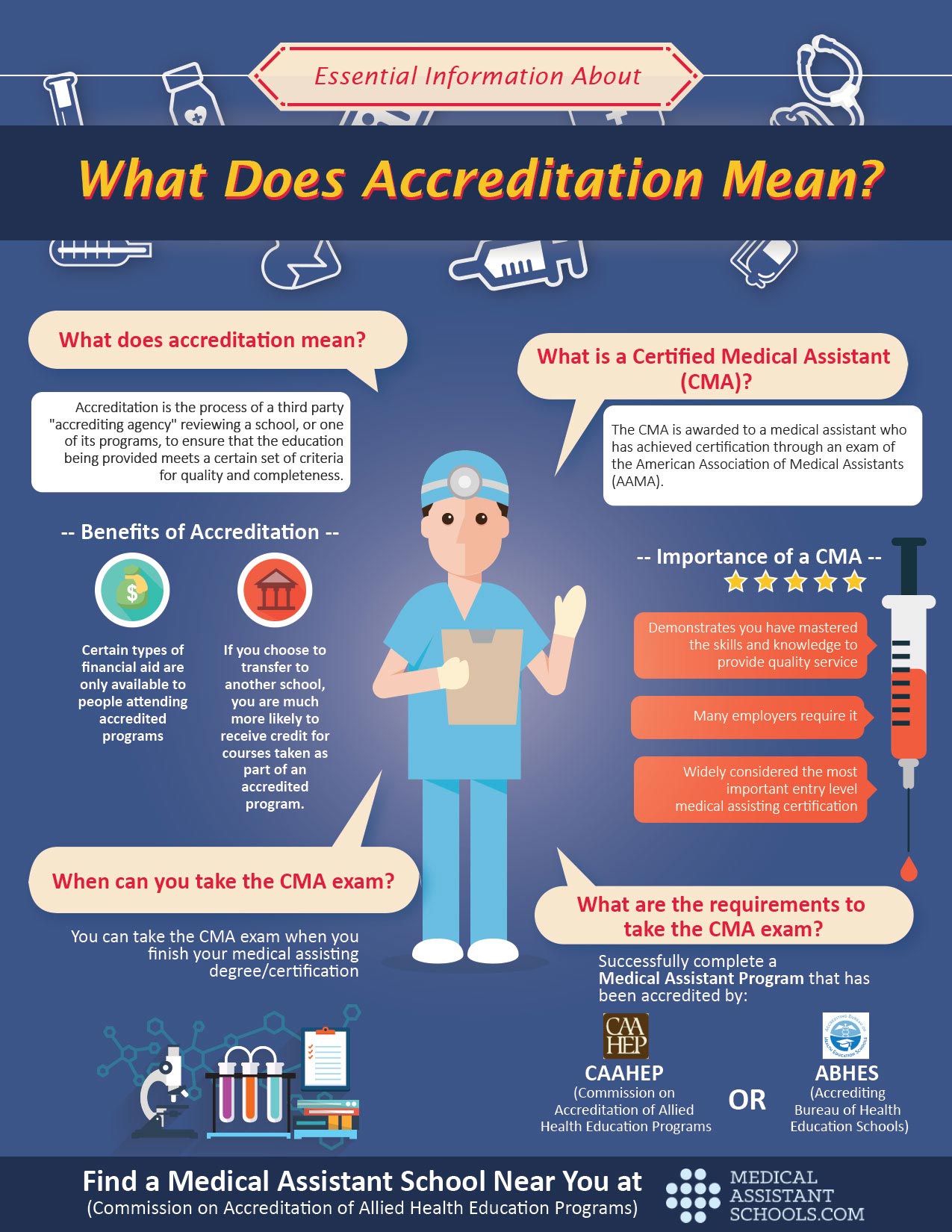 The Short Story on Accreditation & Certification
It is increasingly important in this competitive job market to make sure that the school you attend can prepare you for certification as either a CMA (Certified Medical Assistant), awarded by the AAMA (American Association of Medical Assistants), or an RMA (Registered Medical Assistant), awarded by AMT (American Medical Technologists). The CMA certification can be obtained right when you finish your degree. The RMA certification, on the other hand, requires you to have been working as a Medical Assistant already for at least 5 years.
<!- mfunc feat_school ->

<!- /mfunc feat_school ->
In order to take the CMA exam, you have to attend a Medical Assistant program that has been accredited by ABHES (the Accrediting Bureau of Health Education Schools) or CAAHEP (the Commission on Accreditation of Allied Health Education Programs). There are no exceptions to this and no ways around it. The AAMA website has an excellent page explaining the process of becoming a CMA.
Certified Medical Assistant (CMA): What Does It Mean?
Not all employers will require you to be certified, nor is it required by law of all medical assistants. However, with that said, the vast majority of medical assistants do end up pursuing one of the two certifications, and many employers will require it. The CMA certification is widely considered the most important and desirable one in the field.
The exam itself is taken on a computer and consists of 200 multiple choice questions. You find out immediately (at the end of the exam) whether you passed or failed, and you receive your official score in the mail 6 to 10 weeks afterwards.
If you have ever been found guilty of a felony, or pleaded guilty to one, you may be ineligible to take the CMA exam. You can apply to the AAMA for a waiver on this, based on any mitigating circumstances you feel apply.
Accreditation of Medical Assistant Programs
Accreditation is the process of a third party "accrediting agency" reviewing a school, or one of its programs, to ensure that the education being provided meets a certain set of criteria for quality and completeness.
Accreditation of a school or a program is a rigorous process that can take 6-12 months, and involves the school submitting information to the accrediting agency, as well as visits to the school by representatives of the accrediting agency. The accreditation received at the end of this process is typically valid for a number of years, after which the school has to go through another process to have its accreditation renewed.
As stated above, the only way to achieve the CMA certification is to attend a Medical Assisting program that has been accredited by the ABHES or CAAHEP accrediting bodies.
There are other benefits (besides the CMA) to attending an accredited program. Certain types of financial aid are only available to people attending accredited programs, and if you choose to transfer to another school, you are much more likely to receive credit for courses taken as part of an accredited program. Find a medical assisting program in your state to start your career!
Featured Online Programs:
Online programs may not be available in all states