Medical Assistant Schools in North Carolina
Medical Assistant Certification in North Carolina
Do you work well with people and enjoy the field of health care? If so, you may want to look into becoming a medical assistant. Medical assistants play a significant role in North Carolina's health care industry, particularly as more and more residents get health care for the first time. Becoming an MA may permit you to provide some basic medical services, like blood draws, as well as obtain vital signs, and patient history to pass along to providers. Find medical assistant certifications in North Carolina for proper medical assistant training to be successful in this healthcare industry and start your career today!
<!- mfunc feat_school ->

<!- /mfunc feat_school ->
Attending medical assistant schools in North Carolina may get you into one of the fastest-growing job fields in the state. The North Carolina Department of Commerce maintains a list of the top 50 hot jobs in North Carolina. Medical and clinical laboratory technicians and medical records technicians are on this list. A degree or certificate in medical assisting can give you the skills needed for these jobs.
Starting any new career requires a strong network of contacts and professional support. In this state, you may join the North Carolina State Society of Medical Assistants. You can join as a student member to apply for scholarships and connect with others in your field. This group also hosts regular events, including a summer seminar and annual conference.
Medical Assistant Education in North Carolina
When you look into medical assistant programs in NC, you need to choose one that offers the hands-on experience and theoretical knowledge that can serve you well in your future career. Like in many other health careers, practical experience is a crucial part of becoming a medical assistant. With simple procedures, you may first work with medical simulators or peers to improve your technique. Much of your time may be spent in a local nursing home or clinical site to help you build your confidence with patients and practice your skills in a real world setting.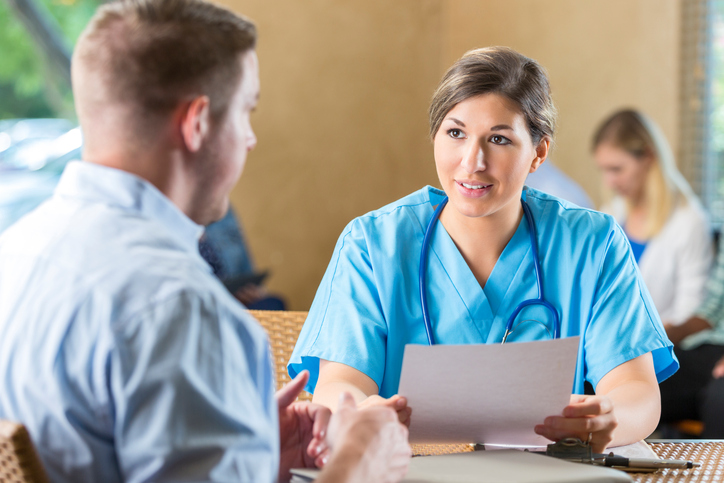 You will also need a strong base of medical knowledge and understanding if you want to thrive in this field. You may take theory-based classes like Medical Terminology, Anatomy and Physiology, and Administrative Office Procedures. These courses help you develop an understanding of how the human body works, what language is used by medical professionals, and what procedures are used by administrative professionals.
You can plan on spending between one and two years in school as a medical assisting student. Diploma and certificate programs in North Carolina tend to be considerably shorter than Associate's degree programs, which require about two years of full-time study. Programs may be offered at nearby technical schools, community colleges, or hospital-based educational institutions.
There are several other medical assisting careers and programs you can look into. If patient care is your favorite aspect of this field, you may be interested in becoming a patient care technician. Those who would like to work in a surgical setting may want to consider surgical technician programs in this area.
Looking into financial aid opportunities may help you cover some of your educational expenses. In addition to federal financial aid, which is based on financial need, you may be able to apply for grants and scholarships. Many North Carolina organizations award scholarships to students that are going into health care. Granville Health System awards the Sam Perry Scholarship, a scholarship that is open to anyone pursuing an allied health career. The North Carolina State Education Assistance Authority has student loan forgiveness programs for those in the health care field. You may also apply for a scholarship through the North Carolina Association of Healthcare Recruiters.
Learn More About Medical Assisting Programs in Your City
If you've ever considered a healthcare career and thought about the benefits that this industry may bring to your life, it all starts with your education. There are many viable paths you may follow to get established in this industry, but perhaps one of the quickest routes is becoming a medical assistant. In an assisting role, you have the unique opportunity to learn from highly trained and licensed healthcare professionals while offering hands-on support. You may choose to work as a medical assistant for the entirety of your healthcare career or you may use it as a foundation for further education and training.
In the state of North Carolina, you may have the opportunity to make a big difference as a medical assistant. North Carolina has one of the largest rural populations in the United States, and many of this state's counties are historically underserved by healthcare professionals. If you commit to working in a Health Professional Shortage Area, you could help doctors and graduate-level nurses see more patients and shorten wait times.
It's important to be able to respond quickly to directions as a medical assistant, since you may help physicians and nurses in emergency care situations. You should also have the capacity to remain calm and focused when tensions run high. Another good trait to bring to the table as a medical assistant is a willingness to learn. Healthcare standards change on a fairly regular basis, and you must be able to accommodate them.
Once you decide to pursue medical assistant certification in NC, it's time to choose a program that may help you get there. As you may find, there are several types of medical assistant programs that may prepare you for clinical and administrative roles.
Medical Assisting Classes in North Carolina
Medical Laboratory Procedures
Fundamentals of Medical Assisting
Healthcare Insurance
Pharmacology
A broad medical assisting program may have many benefits for you as an aspiring healthcare professional. This degree program typically spans both administrative and clinical roles, making you more indispensable to local healthcare facilities and perhaps broadening your career options. This type of training tends to be very fast-paced, making it easier to finish your education promptly and get out into the workforce.
Certificate and diploma programs typically last approximately one year. If you opt to earn an Associate's degree, you must also complete general education classes. This extends your education to two years. Clinical experience is mandatory in medical assisting programs, so you should be ready to get out into the community and test your knowledge in clinics and hospitals.
Billing and Coding Programs in North Carolina
Body Systems and Medical Terminology
Advanced Medical Coding Standards
Pharmacology for Health Information Professionals
Basics of Medical Coding
One of the most popular administrative options in medical assisting is billing and coding. Medical billing and coding specialists are often responsible for the protection of patient data. Their handling of patient data may keep it safe and ensure that it does not fall into the hands of unauthorized users. They also maintain documentation of patient services so that everything is paid for.
As a medical coding and billing specialist, you may submit bills to insurance and follow up with patients to charge them for any remaining balances. Since this field is largely administrative in nature, you may find that hands-on experience is optional for graduation. However, it is still highly recommended that you make time for a practicum course or internship.
North Carolina Nurse Aide and Patient Care Tech Classes
Anatomy and Physiology
Hemodialysis
General Systems Pathology
Medical Documentation
Many professionals choose to start out as certified nursing assistants or patient care technicians. These programs tend to be the quickest option for many students, since they can be completed in a matter of weeks. You may use this foundation to pursue more advanced coursework in medical assisting, nursing, or medical informatics. Over half of your time may be devoted to clinical experience in a CNA program.
Medical Secretary and Administrative Med Assisting Programs in North Carolina
Medical Office Procedures
Medical Machine Transcriptions
Word Processing
Medical Terminology in Healthcare
Another option for medical assistant certification in North Carolina is administrative medical assisting. This is fairly similar to a standard medical assisting program, but it focuses exclusively on administrative tasks.
Take advantage of the variety of opportunities in the healthcare industry of North Carolina.
Request information from North Carolina programs today to find out which option is best for you.
Medical Assisting Careers in North Carolina
As a medical assistant, you may find that you have a better job outlook if you pursue medical assistant certification; NC medical assistants can pursue certification through the American Association of Medical Assistants.
As a general rule, North Carolina is an excellent place for new healthcare students and professionals to build their careers. North Carolina has a fairly severe shortage of healthcare professionals, which has led to a strong job outlook in this industry (Citizen Times, 2017).
Regardless of which type of medical assisting degree you choose, you may be able to turn your education and experience into a promising career for yourself.
In the decade between 2014 and 2024, job openings for medical assistants are expected to increase 25% in North Carolina (O*Net, 2017). This may give you a number of exciting opportunities to consider as you start your career in medical assisting.
Medical records technicians are also in high demand in North Carolina. You may choose to go into this role if you specialize in billing and coding. Rather than spending most of your time with patients, you may spend most of your time with data, paperwork, and computers. This is the ideal career for a well-organized healthcare professional who wants to stick to administrative duties. A 20% boost in job openings may take place between 2014 and 2024 (O*Net, 2017).
If you want to become a nursing assistant, you may be able to put your skills to work in many diverse settings. Popular choices for CNAs include nursing homes, home care agencies, and clinics. Job openings may jump 25% by the year 2024 (O*Net, 2017). If you're looking for another administrative option, you may look for medical secretary job openings. Demand for medical secretaries may swell 23% by 2024 (O*Net, 2017).
Take the first step in your medical assistant North Carolina career.
Contact local schools to find out what training programs are available, when they start, and how you can begin.
To get started with your Medical Assistant career path, request information from the schools on this page that offer the NC Med Assistant programs you are interested in. Materials are free, and you can request from as many schools as you like.
Listed below are all of the schools offering Medical Assistant programs in North Carolina. As a rule, you should contact at least 3-5 schools during the course of your research, and ideally more. There are important differences between the programs in terms of cost, admissions requirements, and other characteristics, and, as with many things in life, the way to find the best Medical Assistant program for your needs is to spend some time shopping around.
Here Are The Medical Assistant Schools…
Salary numbers provided are from the US Bureau of Labor Statistics.