Medical Assistant Schools in Michigan
The health care system isn't just made up of doctors, nurse practitioners, and other primary care providers. They rely on a network of nurses, nursing assistants, and medical assistants to help them see patients and deliver high-quality care. If you'd like to learn how to work in direct patient care and in an administrative setting, now may be a great time to look into medical assistant schools in Michigan.
Health insurance rates are dropping all over Michigan, according to the Detroit Free Press. As more Michigan residents are able to afford health insurance, healthcare providers throughout the state will likely have an influx of new patients. To keep wait times low and ensure that patients get the care they deserve, many medical institutions may hire more medical assistants to take on certain patient procedures. Health Leaders Media reports that in just one year, over 300,000 Michigan residents signed up for health insurance for the first time.
<!- mfunc feat_school ->

<!- /mfunc feat_school ->
Medical Assistant Education in Michigan
Are you looking for a career that empowers you to make a difference in your community? Do you value job security and opportunities for growth? If this describes what you're looking for in your next job, it's time to learn more about becoming a medical assistant.
Michigan schools, particularly two-year technical schools and community colleges, have numerous degree options for those who want to get started in this field. Depending on which school you attend which type of program you choose, you may be able to earn a one-year certificate, one-year diploma, or two-year Associate's degree.
At this level, training programs generally focus on applicable, practical skills that you'll really use in the workplace. There are several types of entry-level medical assistant programs that focus on clinical skills, administrative skills, or a mix of both. With so many ways to get medical assistant certification, Michigan may be the ideal place to start your career in the medical industry.
You may have quite a few options when you start looking into medical assistant training in Michigan. Many students choose to complete an Associate's degree in medical assisting, as this option gives you a combination of medical assisting experience and general education. This option often takes about two years of full-time study. If you decide to go for a diploma or certificate, plan on spending about one year spent in school.
Throughout your one to two years in school, you may take many practical and experience-based courses. Some classes may require you to go into the field to work with patients and start building your base of practical experience. Courses you may be required to take include Clinical Procedures, X-Ray Techniques, Phlebotomy, Medical Administrative Procedures, and Medical Ethics. Many programs end in a practicum component. If you complete an externship or internship, you may spend the whole semester in one clinic. If you complete a general practicum experience, your school may send you to multiple locations throughout the semester.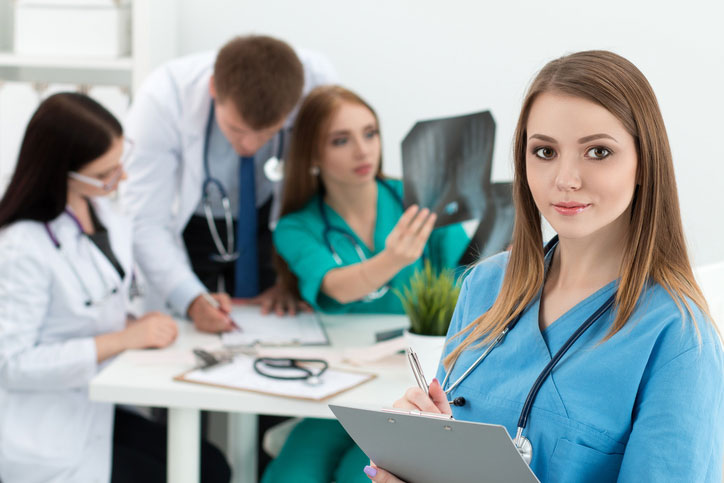 It's crucial to meet the learning goals of your program. Medical assisting programs in Michigan tend to have fairly similar learning outcomes. You should feel comfortable using medical technology, like x-ray equipment, lab equipment, and billing programs. Furthermore, you must feel confident working with patients of different needs.
Michigan organizations and health care institutions have lots of scholarships available for medical assisting students. MidMichigan Health awards the Bernard F. and Melissa Anne Bailey Family Fund Scholarship that is awarded to health care students. Another good source for scholarships is St. Mary's of Michigan. Health care students can apply for the Michigan Health Occupation Educators Association scholarship. The Grand Rapids Community Foundation funds many health scholarships for high-performing students.
Medical Assisting Classes in Michigan
If you'd like to spend your days working on a variety of tasks, you may want to look into general medical assistant programs. Rather than making you focus just on office skills or just on clinical skills, these degree programs offer experience in both. In your office-based classes, you may learn how to process health insurance documentation and schedule appointments.
In your clinical courses, you may get direct experience working with patients. You may discover how to take vital signs, get a patient's medical history, communicate status changes to doctors, and use appropriate medical terminology. Many medical assistant schools in Michigan require several hundred hours of clinical experience prior to graduation.
Course Requirements in Medical Assisting
Medical Office Procedures
Infection Control
Urinalysis
Fundamentals of Medical Assisting
Billing and Coding Programs in Michigan
You may find that you prefer working with technology to working with patients, or maybe you have difficulty with certain clinical situations. If a clinical career isn't in the cards for you, you have many administrative options.
A popular choice is medical billing and coding. There are two parts to this degree. Billing involves submitting the proper paperwork to insurance and other payment agencies for prompt reimbursement. This requires that you know how to apply discounts and special prices to services, since many facilities have agreements with large insurers. The other part is medical coding, which requires that you use appropriate coding principles to charge companies and individuals. Coding is very specific, and it's the skill that ensures that facilities charge properly for every single service they provide.
Class Options in Billing and Coding Programs
Health Services and Information Systems
Medical Terminology
Procedural Coding in Healthcare
Anatomy and Physiology
Michigan Nurse Aide and Patient Care Tech Classes
You may feel pulled toward a clinical role in patient care. If you are ready for a physically demanding job that often keeps you busy for eight to 12 hours at a stretch, you may thrive as a certified nursing assistant or patient care technician. There is some paperwork involved with this career, since care providers have to document the services they offer, the vital signs they capture, and patient status updates.
However, you should spend most of your work days on your feet. Some of the skills you may cover in a CNA program include patient transferring, administering medications, feeding and hydrating, and assisting with personal cares.
Nurse Aide Classes
Vital Signs
Phlebotomy
Patient Transfer
Charting and Documentation
Medical Secretary and Administrative Med Assisting Programs in Michigan
You want to explore careers in medical office management. As healthcare requirements evolve all over the country, the need for skilled officer managers and medical secretaries has continued to grow. If you want to become a medical assistant in Michigan, look info focusing on administrative skills with a medical secretary degree or certificate. Since you may not have contact with patients in a clinical setting in this role, you may have minimal or no experience requirements to meet.
Required Medical Secretary Courses
Medical Office Procedures and Customer Service
Information Management
Medical Terminology
Medical Insurance Claims
One of the benefits of getting involved in healthcare is the wide variety of job options you may enjoy. You may use your entry-level job to explore more demanding positions down the road or advance your education. The first step is comparing medical assistant schools in Michigan and figuring out what type of education you need.
Contact schools near you today to get more information.
Learn More About Medical Assisting Programs in Your City
Medical Assisting Careers in Michigan
Depending on where you live in Michigan, you may enjoy a solid job outlook as you build your medical assisting career. Demand is high in the Lower Peninsula because of the amount of low-income residents who struggle to find the care they need in a timely manner.
In the Upper Peninsula, patients may not be able to find clinics or hospitals near them that accept their insurance. By providing high-quality care in any part of Michigan, you may improve the healthcare experience and make a difference.
Overall, the job outlook in Michigan is positive. As this field evolves, job openings may increase even more. By the year 2024, demand for medical assistants may jump 11% (O*Net, 2017). From 2014 through 2024, job openings for medical records technicians may swell 10% (O*Net, 2017). A 10% increase in job openings for nursing assistants and medical secretaries is predicted by the year 2024 (O*Net, 2017).
To understand how serious the need for healthcare is in Michigan, just look at the training programs that state officials have set up in Detroit. Detroit-based training centers prepare residents for entry-level healthcare careers, since these are the positions that often have extreme shortages in Michigan cities (US News, 2017).
This document was edited with the online HTML5 composer. Please subscribe for a htmlg.com membership to remove similar messages from the edited documents.
Are you ready to find a medical assistant degree that may help you get closer to your goals? If you are, take the first step now.
Check out our list of medical assisting programs in Michigan and contact schools near you to learn more.
Listed below are all of the schools offering Medical Assistant programs in Michigan. As a rule, you should contact at least 3-5 schools during the course of your research, and ideally more. There are important differences between the programs in terms of cost, admissions requirements, and other characteristics, and, as with many things in life, the way to find the best Medical Assistant program for your needs is to spend some time shopping around.
Here Are The Medical Assistant Schools…
Salary numbers provided are from the US Bureau of Labor Statistics.